COVID-19 TRAINING FOR MANAGERS AND STAFF
ClubSafe is the nation's leading provider of emergency response and preparedness planning for Clubs. Our team of safety Consultants are knowledgeable, seasoned professionals with a wealth of Club expertise, ready to assist your Managers and staff in all facets of safety.
Today, with the presence of the new coronavirus, we want to ensure that your staff is trained and equipped to handle any emergency safely and properly. ClubSafe will provide the protocols and training so your staff can act quickly, protect themselves and provide first aid and lifesaving assistance to anyone at your Club.
Rule #1: Treat every emergency as if the person has Covid-19.
LET'S WORK TOGETHER TO KEEP EVERYONE SAFE.
We train club management and staff to respond to medical emergencies during the Covid-19 pandemic and beyond.
EMERGENCY GUIDELINES FOR COVID-19
These guidelines have been developed for use during the Covid-19 pandemic and beyond. Each club may need to modify based on their resources, such as, what staff are present and the location of their AEDs. Please contact us for additional information specific to your club and operations.
In the event of an emergency at the Club, immediate assistance needs to be provided by trained and equipped staff working together as a team. The following guidelines are for incidents that require a 9-1-1 response:

Team Personal Protective Equipment (PPE)
When a medical emergency occurs, staff that provide first aid will wear the following PPE:
1. Mask
2. Gloves
3. Goggles/ Protective Glasses
When CPR is required, an additional mask or towel will be placed over the mouth and nose of the person in cardiac arrest. This will minimize the contamination of immediate air during resuscitation efforts.
Responding to an Emergency
1. Don PPE first and make sure the scene is safe.
2. Assess problem, have 9-1-1 called if needed. Retrieve the AED and Trauma Kit.
3. Control Scene, Only 2 Essential Staff should be at person's side. Move all staff and members out of room and away from area. Preserve the person's dignity and privacy.
4. Provide First Aid, as needed.
5. Meet incoming EMS, direct to person's location, give verbal report.
After the Emergency

1. Clean all affected surfaces where emergency occurred. Use Bloodborne pathogen kit for body fluids.

2. Clean all medical Equipment (AED, Trauma Kit) and Disinfect all.
3. Replace Supplies that were used (AED pads) or contaminated during the emergency.
4. Place Contaminated Supplies and PPE in a RED Bio Hazard bag. Contact local EMS or Hospital for disposal.
5. Wash Hands thoroughly with warm soap and water. If necessary, clean or change clothing.
6. Complete an "Incident Report Form" and submit to Manager.
Medical Emergencies
The following emergency procedures have been updated to follow the current American Heart Association's Covid-19 procedures for providing CPR to someone in need of assistance. Your Club staff must first protect themselves before providing aid.
CPR/ AED Procedures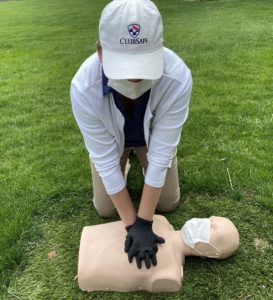 1. Unresponsive and Not Breathing: Have 9-1-1 Called and Retrieve AED.
2. Wear PPE (mask, goggles & gloves) and Place Mask or Towel over victim's mouth and nose.
3. Begin Chest Compressions Only at 100 – 120/ minute. No mouth to mouth and no pocket mask.
4. Apply AED pads as soon as unit arrives to the scene. Turn on and follow voice prompts.
5. Meet EMS and direct to location. Provide a verbal report to medics.